Media for Rene Sandler
RENE SANDLER NAMED
TOP CRIMINAL DEFENSE ATTORNEY
IN WASHINGTONIAN MAGAZINE'S
TOP TRIAL LAWYERS EDITION.
Criminal Attorney RENE SANDLER on 630 WMAL
Rene Sandler wins victory in religious freedom case
in a published opinion
by the Maryland Court of Appeals.
Maryland's highest appellate court recognized that the trial judge had abused her discretion in denying the Plaintiff, an Orthodox Jewish man, an accommodation to strictly observe his religion during the trial which would have required a brief suspension of the trial. "This opinion recognizes a person's right to freely observe his religion and requires that the court put such observance before any administrative inconvenience of the court," says Sandler. View PDF
Rene Sandler, Esq. has been recognized on Wikipedia for uncovering police brutality in a case that received international attention. Ms. Sandler's client was beaten and then wrongfully charged by police following the Maryland vs. Duke Men's basketball game at the University of Maryland last year. All charged were dropped against Rene Sandler's client. read article
Rene Sandler has been named to 2011 Super Lawyers® in Maryland which represents the exclusive honor of inclusion to the State's top 5% of lawyers in the State of Maryland.
Watch Rene Sandler live as an in studio guest with Jim Vance and Doreen Gentzler on NBC 4 News at 11:00 p.m. July 6, 2011.
Rene Sandler provides expert legal analysis
on Casey Anthony verdict
Rene Sandler appeared as an in studio guest on NBC4 in Washington DC on July 5th and 6th for the live television news broadcasts. See www.nbcwashington.com. Ms. Sandler has also appeared as a talk radio show guest accross the country, providing legal analysis on the verdict and can be heard on KOOL 105 with guest hosts Steve McCoy and Stephanie McHugh in Denver, CO and the Mancow Show.
Rene Sandler on the Radio Providing
Legal Analysis on Charlie Sheen
Rene Sandler says that "The clear deterioration of Mr. Sheen in his interviews and self-made video distributed by him makes clear the need for the court's intervention to protect his minor children."
Rene Sandler has provided expert legal analysis on national radio shows on the impact of Charlie Sheen's interviews and conduct on his ability to obtain custody of his children and in the defense of the restraining order against him. Rene Sandler is an expert in child protective services investigations and regularly represents clients in those investigations and in restraining orders and criminal matters.
Listen to Rene Sandler provide expert legal analysis on Charlie Sheen in an interview with WVNN, Huntsville, Alabama

Listen to Rene Sandler's interview regarding custody issues for Charlie Sheen on John Brown's Mindset

Rene Sandler provides expert legal analysis on grand jury investigation of pro football player Albert Haynesworth.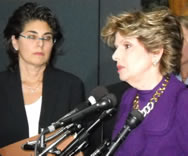 Rene Sandler and her co-counsel attorney Gloria Allred represent the family of Brian Betts who was robbed and murdered in his home in April, 2010. Alante Saunders, the man who pulled the trigger and killed Brian Betts was sentenced on November 23, 2010 to serve 40 years in prison. Following Saunders' sentencing, the family of Brian Betts spoke publicly for the first time and talked about the devastating impact Brian's death has had on them.
Prosecutor drops case against Rene Sandler's client, a University of Maryland student wrongfully charged by police following the MD/Duke Men's basketball game on March 3, 2010.
read article 1 • read article 2 • watch video
SEE RENE SANDLER INTERVIEWED ON WRC TV 4.
Rene Sandler represents one of two teens charged in explosives case
that drew international attention.
NBCWashington.com • September 23, 2009



Rene Sandler represented one of two teens charged in bombmaking case that drew international attention. In response to the entry of a guilty plea by the Co-Defendant Rene Sandler said, ""Both boys have accepted responsibility for their involvement in a very serious case and can now begin to get on with their lives." read article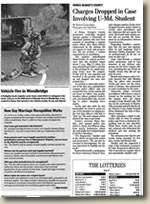 Charges Dropped in Case
Involving U-Md. Student
Rene Sandler was instrumental in having charges dropped against her client where police and prosecutors refused to turn over critical evidence. Sandler said, "It's disgraceful that no one was interested in investigating. No one was interested in finding out the truth," referring to police and prosecutors. read article
READ ABOUT RENE SANDLER IN THE NEWS
Archives: 2007 • 2008 • 2009

Recent Appellate Cases
Rene Sandler wins reversal and new trial for client in religious freedom case in Maryland. Alexander Neustadter v. Holy Cross Hospital, Maryland Court of Appeals.
Rene Sandler raises important religious issue in Court of Special Appeals.
MDDailyRecord.com • read article
Culture clash in the ICUWas life-support denied to Shoah survivor?
WashingtonJewishWeek.com • November 4, 2009 • read article
Md. Court of Special Appeals rules trial court efficiency trumps Jewish holiday
AllBusiness.com • October 26, 2009 • read article
Rory Leftwich v. State of Maryland
March 19, 2007 • read article