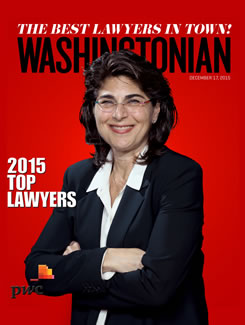 Rene Sandler named by Laws.com to Top 100 Criminal Attorneys in the United States.
Rene Sandler talks criminal defense in interview with Laws.com
Thank you for visiting the Sandler Law LLC web site. We hope that you find the site informative and helpful if you are selecting an attorney in Maryland. You have but one opportunity to make the right decision for you or your loved one to obtain the best legal representation. Results Matter. Call us at Sandler Law LLC. Rene Sandler, Esq.
Welcome to Sandler Law LLC
Sandler Law LLC is dedicated to aggressively representing clients to the fullest extent of the law. Rene Sandler has extensive trial experience in litigating the most serious and complicated cases and provide each client with the individualized attention that they deserve.
UNDERAGE ALCOHOL AND FURNISHING CITATIONS
Any person who receives an underage alcohol or furnishing alcohol citation should obtain counsel for such an offense. Though civil in nature punishable by a fine, such a citation if not handled properly in the criminal justice system, can negatively impact one's employment, scholarship and education, or other collateral consequences. Rene Sandler, Esq. and Sandler Law LLC regularly handle underage alcohol and furnishing citations. Rene Sandler, Esq. recently obtained a dismissal of all charges on behalf of her clients in such a case after successfully challenging the conduct of the police alcohol task force in Montgomery County, Maryland. In that case, the Judge found that the alcohol task force members violated the constitutional rights of the homeowners who were Ms. Sandler's clients.
State dismisses all charges against Rene Sandler's clients after Judge finds police violated homeowners constitutional rights. Read article
CRIMINAL, JUVENILE CRIME, TRAFFIC AND MVA HEARINGS
Rene Sandler has extensive trial experience in litigating the most serious and complicated criminal offenses including murder, manslaughter, vehicular manslaughter, domestic violence, drug offenses (trafficking, possession, distribution, possession with intent to distribute, manufacturing, transporting), drunk driving, white collar crime, assault and weapons offenses, robbery, theft, carjacking, kidnapping, arson, child abuse, sexual offenses, molestation, indecent exposure, DNA cases, incompetency and not criminally responsible cases, juvenile crimes, serious traffic offenses, fraud, forgery, bad checks, credit card fraud, internet fraud, child pornography, and other felonies and misdemeanors. Ms. Sandler handles all aspects of traffic offenses from speeding citations to serious incarcerable traffic matters such as DUI, hit and run, or driving on a suspended license. Ms. Sandler is experienced in and regularly handles MVA hearings and understands the collateral impact of traffic offenses on a person's license.
CHILD PROTECTIVE SERVICES ("CPS")
INVESTIGATIONS AND ADMINISTRATIVE APPEALS
Rene Sandler stands alone in Maryland as the attorney experienced in representing individuals in Child Protective Services investigations and appeals. Rene Sandler and Sandler Law LLC are available for the immediate needs of a client who finds themselves involved in a Child Protective Services case from the moment the person becomes aware that he or she is a target or a witness in a CPS investigation. Legal representation is critical for an individual to be properly advised of his or her rights during the investigative process and clients must completely understand the impact of the department's findings once an investigation is completed. Rene Sandler and Sandler Law LLC handle CPS cases from the earliest stages of an investigation through administrative appeal. If you have been contacted by CPS do not delay in contacting Sandler Law LLC. Contact us now.
PROTECTIVE ORDERS AND PEACE ORDERS
If you are seeking protection against a spouse or partner or have been served with a Protective Order or Peace Order by your spouse, partner, child, relative or neighbor, you need an attorney who is familiar with the hybrid of laws which impact a protective or peace order. Rene Sandler is an experienced, aggressive trial attorney who knows the Protective Order/Peace Order process and will prepare your case and be with you to prosecute or defend your rights throughout the process. Protective Orders and Peace Orders, while civil in nature, have criminal and other serious collateral consequences in the event of a violation or entry of the Order.
CRIMINAL AND CIVIL APPEALS, CORAM NOBIS AND POST CONVICTION
What makes Sandler Law LLC stand out from the rest in handling appellate cases is Rene Sandler's vast experience at the trial level which naturally compliments the appellate process lacking in most appellate advocacy. The extensive knowledge of the trial process aids Sandler Law LLC to effectively and thoroughly review appellate, post conviction, and coram nobis cases with the trial lawyer's eye for cutting edge issues to be presented at oral argument and in written briefs filed with the appellate court.
Why Sandler Law LLC?
Experience. With experience in jury trials and complex litigation, Rene Sandler is prepared to handle cases in both State and Federal Courts in Maryland. Rene Sandler has a genuine interest in the law and maintains knowledge of cutting edge issues and legal developments by attending continuing legal education courses, seminars and other training which ultimately benefits the firm's clients.
Cutting Edge. Rene Sandler is a skilled advocate and uses state of the art tools in investigations to afford clients the best possible defense. Rene Sandler's knowledge and skills in the area of forensic evidence gives the firm's clients cutting edge knowledge for their case.
Zealous Advocacy. The philosophy of the law firm is to provide zealous advocacy and personal attention to each client throughout the legal process.
Communication. We regularly communicate with our clients to keep them up to date and informed about legal developments in their case.
Areas of practice for Sandler Law LLC include criminal defense, protective orders and peace orders, DUI and traffic violations, appellate law, personal injury, MVA hearings and child protective services investigations (CPS).